Outdoor Kitchens Manhasset, NY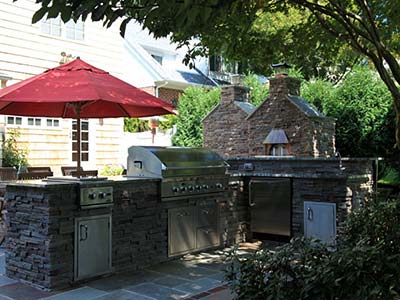 Outdoor kitchens are definitely great add-ons to any property, be it a small private residence or a pretty expansive estate. One benefit is that you can make your outdoor more functional, since you can cook meals outdoors and serve them to your family or guests alfresco style. Dining outdoors is definitely a great experience due to the cool breeze and relaxing ambiance. Additionally, an outdoor kitchen will add value to your property. So whether or not you will sell your property, having an outdoor kitchen will increase its market value.
And when it comes to designing and creating outstanding outdoor kitchens for property owners in Manhasset, Nassau County, Long Island, Old Westbury, and Brookville, Sivilli Landscape Contracting is the company of choice. With numerous completed projects, we definitely have what it takes to successfully build these awesome outdoor features. Call us now so we can begin discussing about your preferences and specifications for your dream outdoor kitchen.
Available Outdoor Kitchen Designs
We can create outdoor kitchens according to the design or theme that clients want. This makes it possible to achieve a customized look that will make the kitchen truly unique and suggestive of the property owner's personality and design taste. For example, we offer modern outdoor kitchen design to clients who wish to go for a clean look with outstanding functionalities. If you prefer subdued, elegant appeal instead, then pick an Old World-inspired kitchen design.
We can install pre-built or custom-made outdoor kitchens. With pre-built, you can enjoy all the benefits of an outdoor kitchen without waiting too long and by paying very minimal amount. There are also some outstanding kitchen designs available, so choosing would be easy.
Meanwhile, if you pick a custom-made kitchen, you may have to wait a little longer and pay extra dollars, but the benefits are worth the investment you'll make. The most obvious is that you get to pick the exact materials, design, and kitchen amenities that will be included.
Kitchen Features that We Recommend
There are specific features and amenities that we recommend for outdoor kitchens. One is a wine cooler so you can have perfectly chilled wines to enjoy after a sumptuous meal. Another is pizza oven if you love cooking such all-time favorite snack. You could also request other great kitchen amenities such as barbecue grills, refrigerator, large sinks, side burners, microwave oven, dining set, and many others. We have made a lot of Manhasset homeowners truly happy with the awesome kitchen appliance and features that we included in their dream outdoor kitchens.
The Perfect Outdoor Kitchen for VIP Clients
Sivilli Landscape Contracting is your perfect pick if you want an outdoor kitchen that is built exactly according to your specification and needs. With our skilled designers and installers, we can surely make the right outdoor kitchen for you. Most importantly, you'd be surprised and pleased at the cost of the entire project. We will offer you affordable rates and low installation cost so you won't need to pay more than what your budget permits.
Wherever you may be in Manhasset, NY, we can surely build your dream outdoor kitchen. Call us today at (516) 338-7904 so we can schedule a site visit and discuss the details of your project.