Drainage Solutions Old Westbury, NY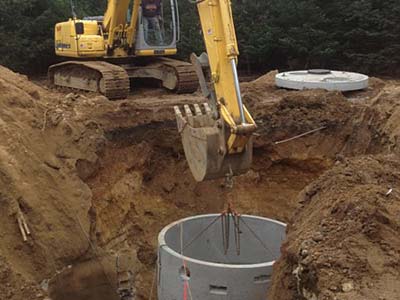 If you won't do anything to avoid flooding in your lawn, you will essentially be compromising the foundation of your home. Such issue may lead to costly repairs and even irreparable damage to your home and its amenities affected by flooding and water seepage. By installing a reliable and fully functional drainage system, we can help avert such scenario. Incidentally, we at Sivilli Landscape Contracting offer the best drainage solutions among all companies in Old Westbury, Manhasset, Nassau County, Long Island, and Brookville.
With our efficiently working drainage systems, we can keep water from finding its way into your home and damaging its foundation. We have successfully installed many of these landscape features in the past – all with commendable results. So call us now and let us install the perfect drainage system for your landscape.
Functions of Landscape Drainage Systems
Landscape drainage systems play great roles that are hard to ignore. They basically ensure that water runoff gets diverted from the downspouts and away from the exterior walls and foundations of homes. They collect, transport, and then eventually discharge water runoff away from structures and plantings that could get damaged due to water seepage or flooding.
Drainage Systems that We Install
We can install practically all types of drainage systems, depending on the needs of our clients in Old Westbury, NY and other cities we serve. As part of our comprehensive drainage solutions, we can install these systems:
Dry wells. This eco-friendly and cost-effective drainage system makes use of drains that direct water into a well that is placed underground. The water then gradually gets filtered out and back into the groundwater table.


French drains. French drains are favored for their ability to direct water to a drain system and not into the landscape, which is the case with other drainage systems.


Window well drains. Window well drains divert water from the window wells into a weeping tile placed at the footing. The water then gets drained to a sump pump located at the basement. The water may also be drained into the sewer system in some cases.


Bubble up system. This system relies on gravity to prevent flooding from occurring in many areas in the landscape.
Aside from these drainage solutions, we also install other drainage systems such as sanitary and foundation drains, depending on what your landscape requires.
Only Premium Materials Guaranteed
Given the very delicate function of drainage systems, we see to it that we only use premium materials when creating them. We only source from reliable manufacturers and distributors to ensure that every component of the drainage system will function flawlessly at any given time. Our goal is not to make extra money by scrimping on the quality of materials used but to provide clients in Old Westbury and nearby NY areas with reliable and functional drainage solutions.
Our Drainage Installation Process
At Sivilli Landscape Contracting, we follow a set of procedures that allows us to successfully design and install drainage systems. Our process involves careful planning in coordination with our clients. We analyze the entire landscape and consider our clients' preferences and needs to determine which drainage solutions are going to work best. And with the superior skills of our installation crews, we guarantee functional drainage systems that help keep structural and landscape damages at bay.
Call us now at (516) 338-7904 to avail our budget-friendly drainage installation rates.