Landscape Design Long Island, NY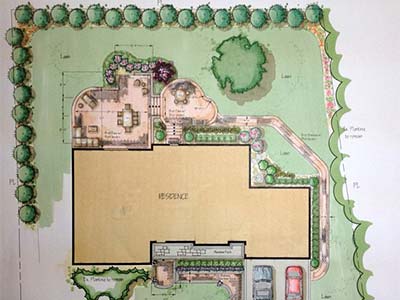 Make your property stand out in your neighborhood by hiring professional landscape designers like us at Sivilli Landscape Contracting. Our skilled crews have created and transformed a lot of properties in Long Island, Nassau County, Manhasset, Old Westbury, and Brookville into beautiful landscapes. Past and present clients alike praise our landscape design creations for their exceptional details and display of sound design principles. With the design plans that we make, we help clients realize their dream landscapes complete with features and amenities that they desire.
We can also help you enjoy an inviting and stunning landscape by creating a custom landscape design. Just call us now at (516) 338-7904 so we can talk about your design preferences.
Our Landscape Designing Process
Creating an outstanding landscape design is by no means an accident. Instead, it requires expertise that is only achieved with years of experience. At Sivilli Landscape Contracting, we are proud of our tradition of creating great landscape designs that are the springboard of standout properties and outdoor spaces in Long Island and nearby New York areas that we serve.
Our design process usually begins with client consultations where we take note of clients' needs and expectations. It may also involve site visit and analysis in which we gain better understanding of what needs to be done and included in the design proposal. Our designers then get to work and use appropriate design tools to create design studies. Through a collaborative approach with clients, we are able to determine our clients' needs and properly incorporate the right themes and features.
Once the client approves the design plan, the actual landscape creation process may start. Incidentally, we also provide professional landscape installation services, hence making us the perfect landscaping company to hire.
We Can Redesign Landscapes
Whether we're talking of a commercial landscape or one in a private property, we can surely provide outstanding landscape redesign services at very reasonable rates. We can perform such tasks as redesigning your garden, relocating shrubs, replacing your flowering plants with better varieties, and adding amenities to make your landscape more inviting, safer, and more functional. No matter how simple or complicated your redesign needs may be, you can bank on our decades of collective experience to get the outcome that you expect.
We Are Experienced Landscape Designers
For property owners in Long Island, NY who want a truly outstanding landscape design, it's critical that they only hire people with lengthy experience and unquestionable expertise. The good thing is that you won't have to go far just to find such people. Sivilli Landscape Contracting is fortunate to have in-house designers who know what is best for your outdoors. Our team of seasoned landscape designers includes crews who are considered the best in the field. They have mastered traditional and modern design techniques, hence making them the perfect people for landscape design projects.
Complete Landscape Design Services
We can be your go-to landscape design company with our complete service offerings. Our design team will not only focus on the various plantings but also add other features like water features (pools, ponds, waterfalls), fire amenities (fire pits, fire bowls, and fireplaces), and other hardscapes (plant boxes, gazebos, decks, patios). We will consider your preferences and specifications to come up with a design that will have everything that you need and desire.
Call us now at (516) 338-7904.