Basement Waterproofing Brookville, NY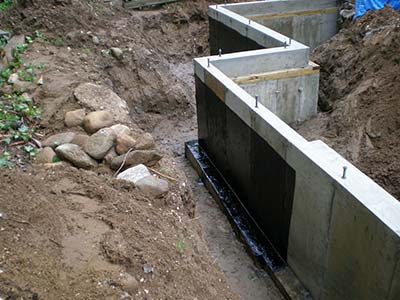 We always urge clients in Brookville, Old Westbury, Manhasset, Nassau County, and Long Island not to take for granted the safety and integrity of their basements. Basement areas, when not properly and religiously taken care of, could weaken and show signs of stress and damages. These issues could seriously affect the structural integrity of the entire home. But the good news is that we can effectively prevent such problems through our basement waterproofing services.
We have successfully performed such tasks many times in the past with positive results. Through us, numerous New York homeowners are spared the hassle of having to spend huge amount of money for basement repairs. You, too, can enjoy the same benefits when you hire us today. Call us now at (516) 338-7904 so we can discuss with you our proven basement waterproofing solutions.
How to Tell if You Already Need Basement Waterproofing
There are several tell-tale signs that signal the need for immediate basement waterproofing. When you see any or several of these signs, then it's time for you to contact us at once:
Warped panels
Water stains on walls
Water lines
White efflorescence on walls
Mold and mildew
Rotting wood
Wet walls
Cracks on walls
Paint peeling
Rusting of appliances and other amenities near basement walls
Keep in mind that time is of the essence when it comes to water seepage problems in basement areas. A month of delay could be all it takes for water to cause costly damages to your basement. So act fast and contact us once you see any of the signs mentioned.
How We Perform Basement Waterproofing
At Sivilli Landscape Contracting, we employ several proven methods to ensure successful and effective basement waterproofing. Among the techniques that we use include:
Foundation coatings. The idea here is to make the foundation walls free of water seepage. This can be done by applying an admixture that keeps water from seeping through the walls or by putting an exterior coating. Other techniques involve applying sprayed-on seamless material or putting rubberized asphaltic membrane sheets onto the walls and seams. Cracks are also repaired and loose particles removed.


Pressure relief systems. This method requires installing a pressure relief pump and piping system that discharges water lodged within cracks in basement walls. With this method, we can effectively prevent cracks, mold, and discoloration.


Crack injections. With this technique, we either use epoxy or polyurethane to seal the cracks in basement walls. We typically use epoxy if there's a need for the crack to be repaired and strengthened while we use polyurethane if the aim is to keep water seepage problems at bay.
We have employed these techniques and proven them to be very effective when done properly. You can even ask some of our past clients in Brookville, NY and nearby areas about how well we have addressed their basement problems.
Expert Basement Waterproofing
Waterproofing basements is a task that only licensed and experienced people should handle. Fortunately, for residents of Brookville and other New York areas that we serve, our basement waterproofing services are performed by experienced crews who can ensure efficient application, solutions, and techniques. So no matter how challenging the waterproofing problem is, we are always able to provide the perfect fix to the delight of our clients.
Call us now and let us address your basement waterproofing needs.