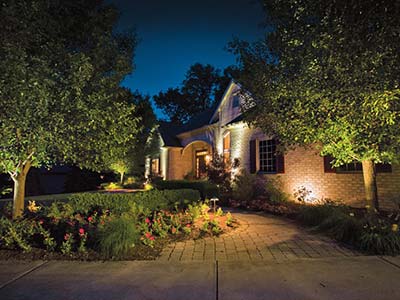 Creating stunning outdoor spaces is about making sure that all the features are chosen with care and installed using high grade materials and craftsmanship. This allows you to make better use of your yard areas. But if you want the same functionality from these spaces after dark, you need to have the right kind of yard lighting installations too.
Sivilli Landscape Contracting Corp. is a premier full-service landscaping company that has been operating in this space for over 30 years. In most instances, exterior lighting design and installation is part and parcel of the landscape project. But if you need us to provide garden lighting solutions for a landscape upgrade, we can do that too.
Types of Landscape Lighting
There are a number of different lighting fixtures and fittings that we may install in your landscape. This would be based on the amount of space that needs to be illuminated, the features that exist there, your preferences and budget etc. The different lighting elements to choose from include:
Pathway & driveway lamps
Recessed lights in retaining walls
Lighting the decorative features
Lights for garden steps
Lights for columns & beams
Outdoor kitchen lighting
Garden lamp posts
Paver lights
Underwater lights for water features
Floodlights
Exterior building lights



Well-planned exterior lighting adds to the aesthetics of your property, makes the outdoor spaces safer and more pleasant to use after dark and adds to the value of your property. For more information about our outdoor lighting services, feel free to call Sivilli Landscape Contracting Corp with your requirements.

Click on the images below to view a larger display.


Photo 1

Photo 2

Photo 3

Photo 4