Landscape Design and Build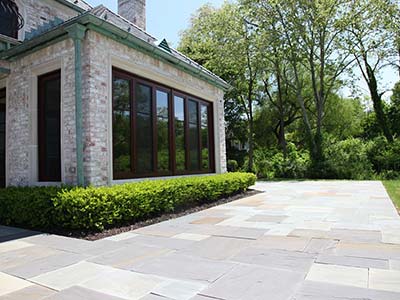 Sivilli Landscape Contracting Corp. is a premier full-service landscaping company that has been operating in this space for more than 30 years. We conceptualize, design and build your landscape and provide solutions for every aspect of your outdoor spaces such as:
Softscaping
This includes all the plantings, trees and lawn areas. We plan these meticulously and focus on ensuring that plants with similar watering needs are installed in the same section of your yard. This helps in the irrigation design aspect of the job. Our expert horticulturists work closely with you to understand what your specific requirements are, the types of annuals, perennials, grasses and ground cover you want etc. We will provide inputs on the installation of water-efficient plants and grasses etc.; this helps you make an informed decision about the types of plantings you want on your property.
Hardscaping
We handle all aspects of hardscaping such as construction of retaining walls, boundary walls, paved driveways, walkways and pathways, and the design and build of patios, decks, outdoor kitchens, water features and fire features too.

We also handle poolscape installation and upgrade projects and provide excellent irrigation and drainage design as well as outdoor lighting services. Use of the best materials and workmanship ensures you get landscapes that are aesthetically-appealing and long-lasting. For more information about the landscape design and build services we provide, feel free to call Sivilli Landscape Contracting Corp with your requirements.

Click on the images below to view a larger display.


Photo 1

Photo 2

Photo 3

Photo 4

Photo 5

Photo 6

Photo 7

Photo 8

Photo 9