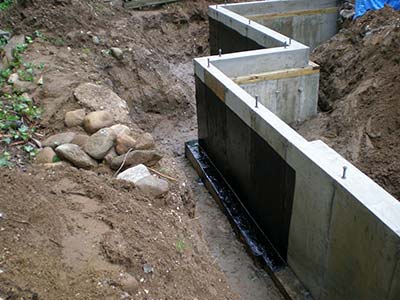 There are times when basements, garages or structures built into the land's grade often suffer from severe water intrusion as they are surrounded by earth. In these situations, proper drainage is paramount and some structures might require foundation coating to ensure the moisture doesn't impact the foundation in any way.
Custom Foundation Coating Solutions
Sivilli Contracting is a premier full-service landscaping company that has been operating in this space for more than 30 years. We handle all types of foundation coating jobs professionally and expertly. This application is generally done on exterior walls and we follow a very detailed approach in these projects:
The soil surrounding the structure /rooms will be excavated.
A membrane/compound will be applied to the walls.
The drainage will be installed properly.
The soil will be put back in place.
Commercial and Residential Foundation Coating
There are a number of different types of foundation coating products available on the market. This makes it important to hire experts like us for the job. We will provide you comprehensive information about the different types of products and what their pros and cons are. We will also provide advice on which materials will be best suited to your requirement and setting.
Our experts work meticulously so no sections are missed; this eliminates the risk of water seeping back into the foundation. For more information about the foundation coating services we provide, feel free to call Sivilli Landscape Contracting Corp with your requirements. You are assured of the best solutions at all times.
Click here to view our Gallery.